control network
integration systems
Maryland Sound and Image uses the most sophisticated control systems from a variety of manufacturers. Some of our most popular solutions work with remote control systems and can be found all over the world in hundreds of corporate boardrooms, training and conference rooms, videoconferencing and distance learning centers, entertainment facilities, and high-tech homes. They allow operation of a wide range of electronic equipment as a single, integrated system, including: Audio, Video, Projection, Lighting, Screens, Shades and Blinds, Security, HVAC, home theatres, and Communications Systems can all be operated with the touch of a finger using remote controls.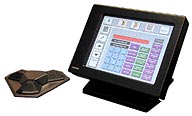 One of Maryland Sound & Image's vendors is Crestron Systems. Crestron leads the way with the industry's most innovative control solutions. With its striking good looks, revolutionary modular design, and full internet compatibility, the Crestron Isys™ touch panel control system is truly The Control System Redefined™. Crestron's e-Control™, is the revolutionary internet-based control technology, which allows connection and control of most any A/V or environmental device via a LAN/WAN/Internet connection.
Currently, Maryland Sound and Image is expanding into vast new markets like home automation with AMX™ and Crestron Home™ systems. Exciting new technologies from these companies can make life easier, increase efficiency, and make your home life more fun! For your complete control network systems needs, look to Maryland Sound and Image, Inc.